This post contains affiliate links, for more information please read our disclaimer on affiliate links.
This post was updated in February 2023.
One of our most frequently asked questions is why we chose a Toyota Dolphin for our camper lifestyle. Choosing an RV is a big decision, so let us give you the lowdown on how we chose our 1989 Toyota Dolphin.
Toyota motorhomes are small
We first started noticing Toyota motorhomes at Burning Man. In fact, I got a ride to my first ever Burning Man in a Toyota Sunrader. What repeatedly caught our eye about these mini motorhomes was their manageable size.
At 21 feet long and just under 7 feet wide our Toyota Dolphin is one of the smallest motorhomes out there. We are about the same size as a Sprinter van, but with far more usable space thanks to the over cab bed!
Micro motorhomes are very hard to come by, and in the United States Toyota motorhomes are just about the only micro mini RVs available. There are plenty of towable micro trailers, but we wanted something self-contained so we would not have to worry about purchasing a tow vehicle. We have been SO pleased with the decision to go with a small motorhome.
Why go small?
While a larger RV provides more living space, the advantages of choosing a compact motorhome far outweighed the benefits of extra space for us.
One huge advantage of driving one of the smallest motorhomes on the market is fuel efficiency. We consistently get about 15-16 mpg in our Toyota Dolphin. This is similar to the gas milage of a small campervan, and a HUGE savings compared to the 5-6 mpg many larger RVs get. Our Toyota motorhome's mpg regularly surprises the RV travelers we meet on the road!
Another reason we chose a very small RV was drivability, as well as flexibility in where we take it. Our Dolphin drives just like a large truck, making it easy and comfortable to drive on a variety of terrains, and we have definitely tested that on everything from asphalt to sand to gravel roads.
This is also where flexibility comes in- a very small RV is shorter and weighs less than a standard RV, which means you can drive it on steep dirt roads, and over soft sand, both of which would be impossible in a larger RV. Since we like to boondock as much as possible, the Toyota Dolphin RV made the most sense for us.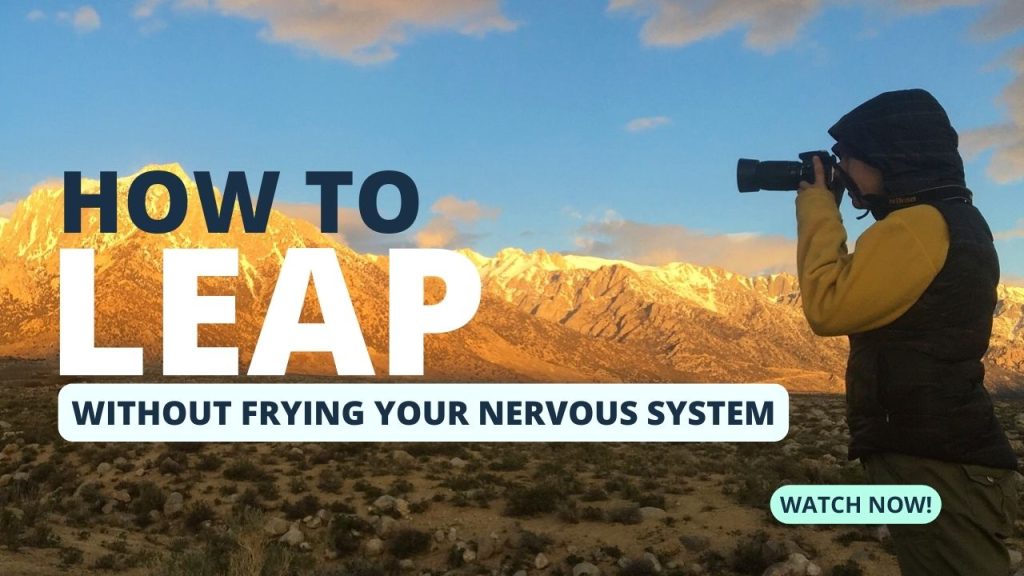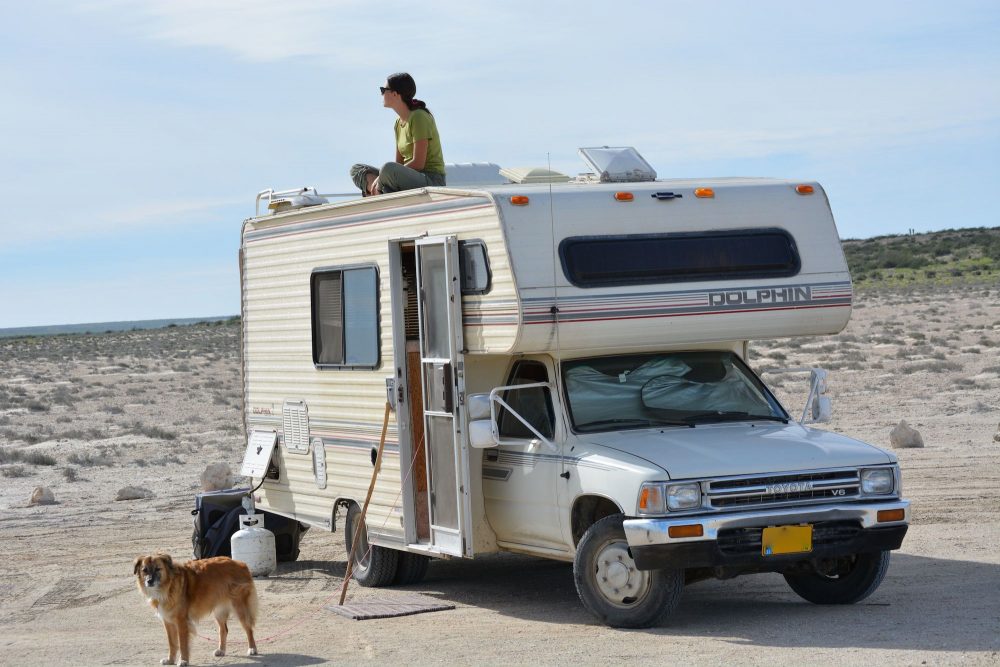 Our Toyota Dolphin camper is a mini motorhome
Why choose a Toyota Dolphin over a campervan?
Great question! The truth is, we had a short list of vehicles that we were interested in, and a campervan was number two on the list, right below a Toyota motorhome.
Campervans are awesome for many of the reasons we listed above- after all, they are small and fuel efficient! However, there are some big advantages to the Toyota campers, the first being the USE of the space.
Thanks to the over cab bed design of the Toyota RV we get about 25% more living space than we would in a camper van. Also, our Dolphin RV has a tiny bathroom that is actually a separate room at the back of the camper, which is not a feature we would get in a campervan.
The separate bathroom was not important to us when we made the purchase, but after a year of full time RV living we realize that the separate bathroom has made our life SO much more comfortable than it would be without it.
(Pro tip: For even more living space create an RV patio using a large weatherproof outdoor mat like this one.)
Essentially, our Toyota Dolphin motorhome is about the same length and width of a large campervan, but with a much more efficient use of the living space thanks to the unique floor plan. That extra living space was a huge factor in choosing a Toyota motorhome over a campervan.
Interested in how we utilize the space in our Toyota motorhome? Check out our top 10 essential motorhome accessories!
Toyota Motorhome Video Tour
Check out this video to see the awesome layout of our Toyota Dolphin! You can see for yourself why we chose a Toyota motorhome over a campervan.
We chose a Toyota Dolphin for its mechanical reliability
It's pretty widely known that Toyota builds an extremely reliable vehicle. They stopped manufacturing motorhomes (at least in the United States) back in 1993, yet you still see Toyota motorhomes ALL OVER. This is a testament to the quality of these RVs.
It is not uncommon for a Toyota mini motorhome to run well over 200,000 miles on its original engine. In fact, most Toyota motorhomes feature the Toyota 22R-E engine, which is famous in the auto industry as one of the longest running engines ever manufactured.
At this time our 1989 Toyota Dolphin motorhome has just 41,000 miles on it, and it absolutely runs like a new truck. There's peace of mind knowing that we can count on our vehicle mechanically when we are venturing into the wilderness to find a boondocking spot, or driving hundreds of miles through the Mexican desert.
(Interested in your own Mexican camping adventure? Be sure to snag this essential guidebook!)
Honestly, even if we only camped in urban areas, we would still save loads of cash by driving a reliable vehicle. Mechanical work is expensive!
We have been so happy with our Toyota motorhome, we certainly would recommend it to anyone as the best compact motorhome on the road. Toyota motorhomes come in a few different models- Toyota Chinook, Toyota Sunrader, Toyota Winnebago, and Toyota Itasca.
All of the Toyota RV's are mini motorhomes similar to our Dolphin. If you would like to search for Toyota RVs that are for sale, the easiest way to find them is to google "Toyota Dolphin RV for sale" or "Toyota mini motorhome for sale". These will pull up LOTS of options. Checking your local craigslist is also a good way to find a Toyota motorhome locally.
Would you like to get a closer look at our Toyota Dolphin? Click here to go to our Toyota Dolphin video tour!
Planning your own Toyota motorhome adventure? Be sure you have everything you need!
Want to keep in touch? Head to our sidebar (or scroll to the bottom of this page on mobile) and enter your name and email address to subscribe to our email updates. We will never share your information with any third parties, and we won't spam you! In our monthly emails we give updates on our travels, insider tips, and a behind the scenes look at our camper life.
Need help planning an RV road trip? Check out our RV Trip Planner!
To read more about our camper life journey check out:
For DIY RV renovation ideas read about:
Did you enjoy this post? Pin it to Pinterest: