Updated February 2023
This post contains affiliate links, for more information please read our disclaimer on affiliate links.
In this complete guide to RVing Banff and Jasper National Parks we give you the low down on campgrounds and parking in Banff and Jasper National Parks, as well as how to get around the parks, and how to handle (or avoid) the crowds!
RV Camping Banff and Jasper National Parks
Camping in Banff and Jasper is, in our opinion, one of the best ways to enjoy the natural beauty of these areas. The campgrounds vary widely in size and amenities from huge RV-friendly campgrounds with hundreds of sites and full hookups, to small campgrounds with few amenities nestled in areas of pristine nature.
Overall our camping experiences in Banff and Jasper National Parks were very positive. The campgrounds were cleaner, more organized, and less expensive than National Park campgrounds in the states. Banff RV camping seemed a bit more convenient than the camping in Jasper, but we had a great time camping in both parks.
We prefer small campgrounds with beautiful campsites (and few amenities) to the larger amenity-packed campgrounds. However, we stayed in all types of campgrounds on our visit.
Tunnel Mountain Village Campground- Banff National Park
Tunnel Mountain Village Campground is the closest campground to the actual town of Banff. It is just a couple miles from the center of town, and you can hop a shuttle into town if you don't want to drive your camper (we highly recommend utilizing the shuttle service, as getting around town is difficult in a camper).
The campground is HUGE with hundreds of sites. You can choose whether you would like a site with a fire pit (required if you want to have a campfire), a site with water/electric hookups, or just a basic site with neither of these options.
We stayed in a basic site that did not have hookups or a fire pit. In Canadian national parks if you want to have a campfire you pay for a nightly campfire permit, and then you can use as much of the provided firewood as you want throughout the night.
We chose not to spend the extra $8 for a fire permit, but we did feel that this system was FAR superior to U.S. national parks because it insures that visitors only burn local wood, AND it allows you to have a fire all night for a set price.
The bathrooms in Tunnel Mountain Village were modern and clean with hot showers. There were also food lockers available for tent campers, or anyone who wanted to stow food safely away from animals.
Grizzly bears are commonly spotted in Banff and Jasper National Parks so the campgrounds are very serious about educating the public on clean campsite practices. Banff campsites must be kept free of food and coolers anytime you are not present OR anytime you're sleeping.
The rangers drive through the campgrounds at night, and if you have left a cooler or food sitting outside they will pick it up and move it to an indoor location where you will later have to go pick it up (don't be that guy)!
Lake Louise Campground- Banff National Park
Further north in Banff National Park is Lake Louise Campground. Lake Louise is another large campground with over 100 sites. At Lake Louise the RV campground has electric hookups.
The Lake Louise campground was much prettier than Tunnel Mountain Village because it sits right on the bank of the Bow River. Our site was at the verrrrrry end of the campground, near a walking trail that runs right along the river. Indy really enjoyed this spot, though the ranger did warn us that grizzlies were common at the far end of the campground so never let your dog off leash.
The only downside to the Lake Louise campground was the fact that the bathrooms are really far from some of the campsites. In the future we would request a campsite close to the bathroom.
Rampart Creek Campground- Banff National Park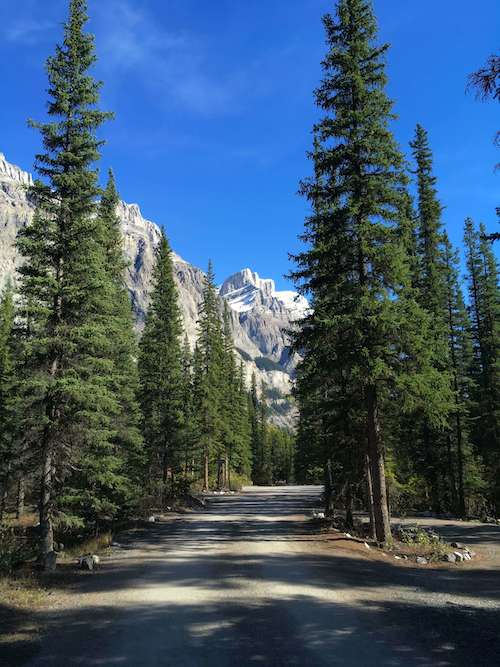 Rampart Creek was by far our favorite campground in Banff or Jasper. It's a smaller campground located on the Athabasca River, and it is absolutely stunning. We were lucky enough to get a campsite right on the river, but every campsite hosts incredible mountain views.
Rampart Creek had no amenities aside from garbage, pit toilets, and firewood (which, again, you could use as long as you paid for a permit). However, the sites are nestled in the woods, and offer far more privacy than the other, larger campgrounds.
**NOTE: The sites in Rampart Creek can only accommodate campers up to 35 feet in length, so keep this in mind if you have a big rig! (We avoid restrictions like this by driving a Toyota Dolphin micro-RV)
There are several more small campgrounds like Rampart Creek along the Icefields Highway, and the next time we road trip Banff and Jasper we plan to stay in more of those small campgrounds.
Wapiti Campground- Jasper National Park
In Jasper National Park camping is a bit more limited than in Banff National Park, and the campgrounds are not designed quite as conveniently as those in Banff.
Wapiti campground is the closest campground to Jasper's town center, and it has a walking/bicycle trail that allows you to easily bike into Jasper's town center. We always travel with our bicycles, as they are an awesome way to get around without having to drive our RV everywhere! If you're planning to bicycle, be sure you understand the rules of cycling!
At Wapiti we were once again lucky enough to get a campsite right on the river, and though the sites were pretty close together the scenery was beautiful.
The biggest downside to Wapiti was the fact that there is just one shower building right by the entrance to the campground, and in a campground with hundreds of sites this meant we had to bicycle, drive, or walk about a mile to take a shower.
This was only a minor inconvenience for us because we have our bicycles, but the tiny parking lot at the shower building was constantly full of cars and RVs, so that's something to keep in mind if you camp at Wapiti campground.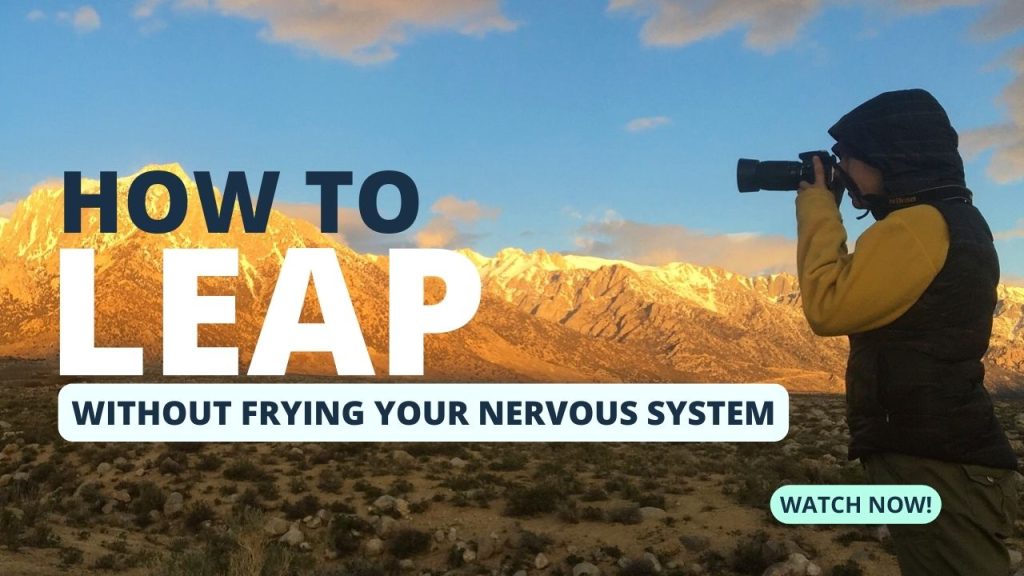 RV Travel in Banff and Jasper National Parks
Both Banff and Jasper National Parks experience very high visitor volume throughout the year, and especially in spring, summer, and fall. The national parks have a lot of regulations in place to manage the traffic with so many visitors, and often these regulations specifically target RVs.
The RV driving and parking regulations in Banff and Jasper can be confusing. Here we'll explain the rules so that you can feel confident driving your RV in the parks.
RV Parking Lots
In the actual towns of Banff and Jasper there are designated RV parking lots, and RVs are not allowed in the regular car lots, even if your RV is small enough to fit in a space in the regular lot!
We highly recommend stopping in at the first visitor center you see and picking up a free "RV Parking Banff" or "RV Parking Jasper" brochure. This brochure includes a map with all of the RV parking areas in Banff, and is absolutely invaluable to getting around the area.
When you stop in at the visitor center take a moment to speak with a representative about RV travel throughout the park. Ask which sites you can visit in your RV, and which ones you should plan to shuttle to.
The visitor center representatives are very knowledgable, and this could save you a big headache down the road!
Shuttle Service Instead of Driving your RV
There are a few sites in Banff, particularly in the Lake Louise area, that are not accessible by RV at all. Unfortunately, the signs and brochures do a very poor job of advertising this fact, and we found out the hard way by driving 45 minutes only to get turned around!
Lake Moraine, one of the most scenic spots in the rockies, is inaccessible to RVs.
We drove all the way out to Lake Moraine only to be told we would not be allowed to park, and that we would have to park about 15 miles away in the Lake Louise overflow lot, where we would need to catch a shuttle in order to visit Moraine Lake.
There were no signs indicating this, so here's a heads up: do not attempt to drive to Moraine Lake in your camper!
Lake Louise is very close to Moraine Lake, and while there is a designated RV parking area near Lake Louise, it is small and always full. The same shuttle that will take you to Moraine Lake also stops at Lake Louise, and is a much less stressful way to visit the area!
Additionally, there are shuttles that run from Tunnel Mountain Village Campground into the Banff city center, and this is definitely the best way to reach the town center.
By taking the shuttle you can avoid having to park in town, and you do want to avoid it because RVs can only park in designated RV parking areas, which are far from everything anyway.
Once you've reached the town center of Banff by shuttle you can easily walk to all of the sites around town, including the very cool Cave and Basin National Historic Site.
Narrow Streets
Keep in mind that the town centers of Banff and Jasper are very small mountain towns that were not designed for large vehicle travel. If you are in a campervan or micro RV you may be able to make it work, but a large motorhome or trailer will likely have difficulty maneuvering on the small in-town streets.
This is another great reason to use the shuttle into town, rather than trying to drive your camper!
Rented RVs
There are TONS of rented RV's driving around Banff and Jasper. In fact, the vast majority of campers we saw were rentals.
Anyone who owns a camper knows that it takes time to get used to driving a larger vehicle, so the high volume of rented RV's makes for some tricky driving situations, especially in crowded RV parking lots.
Drive defensively! Pay special attention to rented campers (they will be obvious, with huge logos all over the vehicle), as the driver may not be used to driving such a big vehicle.
If you are considering renting an RV for travel in Banff and Jasper you may want to look into camper rentals in Calgary or Vancouver. Give yourself a few extra days so that you have time to learn to drive your rental RV before you enter the national park traffic.
Best Time to Visit Banff and Jasper National Parks
Spring and Fall are definitely the best time to visit Banff and Jasper! Winter in the rockies makes it very difficult to navigate the parks, and in the summer the hordes of tourists may ruin your trip.
When I say hordes of tourists, I mean it. We visited Banff and Jasper in the Fall shoulder season, and even then we had to have a strategy to avoid the crowds (more on that below)!
In Spring and Fall the weather is manageable, and there won't be quite as many tour buses unloading at the most popular sites.
How to Avoid the Crowds in Banff and Jasper National Parks
The crowds in Banff and Jasper National Parks were far larger than we ever anticipated, even in the fall shoulder season! Here is the truth about crowds in Banff and Jasper and how to handle them.
How Crowded IS it?
Before we visited Banff and Jasper National Parks we did plenty of research on the parks so we would be prepared for our trip. While our research did mention crowds a bit, most resources only warned against summer crowds. Since we were planning to travel from Banff to Jasper in the fall we didn't think we needed to worry about the crowds.
Boy were we WRONG!
I cannot imagine what Banff and Jasper must be like in the summer because even in late September the crowds were overwhelming.
The giant visitor center parking lots were often completely full, by early evening the more popular campgrounds with hundreds of sites were often full, and, most notably, the most popular scenic sites were often congested with hundreds of selfie-snapping tourists.
Our first night camping in Banff National Park we were bewildered by the crowds we had been forced to fight through all day long. We both have experience with Yosemite National Park in the United States, and the crowds in Banff were exponentially worse than we'd ever experienced in the parks in the states.
We sat in the camper trying to figure out how we would make the most of our visit with crowds this pervasive.
We came up with a strategy that evening that served us very well for the rest of our trip. While we weren't able to completely avoid the crowds, we were able to dodge them enough to enjoy our week camping in Banff and Jasper National Parks.
Become an Early Bird
Getting up at sunrise to see the most popular sights is a great way to avoid the crowds at Yosemite National Park in the USA, so we decided to give that a try in Banff National Park as well.
Sure enough, if we got up before the sun came up and made it to a popular spot around sunrise we had the location nearly all to ourselves!
This was our strategy for hiking to the Lake Agnes Teahouse in Banff National Park. The Lake Agnes Teahouse is one of the most famous hikes in Banff National Park as it leads to a beautiful teahouse sitting on the shore of Lake Agnes which is only accessible by hiking.
We began to make our way up to the teahouse around sunrise, and when we arrived (around 9am) we were able to get one of the few lake view seats on the teahouse porch.
We were certainly not the only hikers at that time, but the crowd was thin, and we were able to enjoy the experience. On our hike back down from the teahouse we passed LOTS of people, and we were thrilled that our strategy worked to beat the crowds!
Avoid the Quick Stop Scenery off the Icefields Parkway
When you drive the Icefields Parkway from Banff to Jasper there are many spots where you can stop in a small parking lot, walk a short distance, and easily view some epic scenery.
This sounds convenient…until you actually attempt it.
These quick stop nature spots were consistently overflowing with crowds of tourists. You practically had to fight your way through people just to get a glimpse of the scenery.
After attempting this a couple times Tom and I decided that these spots just weren't worth it, and instead we went in search of 1-2 mile hikes that would take us to less accessible scenic views.
This strategy worked very well for us, and we enjoyed the Icefields Parkway from Banff to Jasper SO much more once we ditched the quick stop scenery.
Camp for the Night Near the Spot you Would Like to see in the Morning
When we were done sightseeing for the day we would look at a map and decide which beautiful sight we wanted to check out first thing the next morning. Then we would find the campground closest to that sight and camp there for the night.
The scenic spots in Banff and Jasper become far more crowded in the late afternoon so we used that time to get a good spot in a campground rather than battle the crowds.
This worked well for us, as we got some quiet time in the campground before the other campers showed up, and in the morning we were already perfectly positioned to catch the sunrise in a beautiful location.
Spend more time in Jasper National Park
Jasper National Park is actually larger than Banff National Park, and the crowds definitely begin to thin out the deeper you go into Jasper.
We began our visit in Banff National Park, so by the time we got to Jasper and realized it was far more peaceful our trip was nearly over. In the future we would probably move through Banff quickly, and spend more time exploring in Jasper National Park.
We really enjoyed our camper travel in Banff and Jasper National Parks, and highly recommend this RV road trip!
If you are planning your own Banff/Jasper camper adventure be sure to grab Lonely Planet's beautiful, comprehensive guide to the area!
Is camper travel in your future? Be sure you have everything you need for your travels!
Considering camper travel but have more questions? Check out these answers to our most frequently asked camper life questions!
Did you enjoy this post? Pin it to Pinterest: